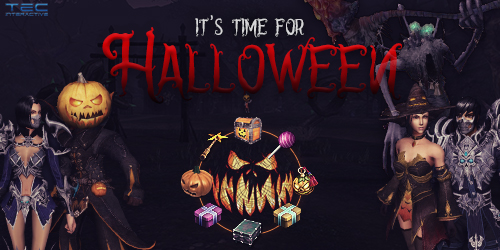 Dear Players,
The spookiest time of the year has come and we hope you are ready for it! I know I am!
That's right! Halloween Event is coming and it will start on Monday, October 26th at 00:00 GMT+0 and will end on Monday, November 2nd at 00:00 GMT+0!
During this time we have prepared for you both In-Game and Forum Events!
The Death Valley is our Halloween Map for Level 75+ players and to enter in it you have to craft the pass at Jack O' Lantern.
This pass will have a duration of 7 days and you can use it as many times as you want.
Inside the Map you will find:
- Level 85, 105 and 120 Monsters;
- Level 95 and 120 Metin Stones;
- The Dark One and "Death" himself.
What exactly can you get in this Halloween Map?
- Level 95 Metin Stones will drop Trick or Treat Boxes and some other extras;
- Level 120 Metins drop Halloween Suprise Boxes and extras
- The Dark One will drop Levi's Ring (which allows you to trade it for 1000 Tec Points);
- "Death" drops Thor's Ring (which allows you to trade it for 2000 Tec Points);
All the regular monsters on the map will drop Candies which can be used to craft Costume/Weapon Skin Boxes. The higher the monster level, the higher the drop rate!
Jack O' Lantern allows you to craft Costumes Boxes and Weapon Skin Boxes. Once opened, these boxes will give you 1 Random Permanent Weapon Skin or Costume.
The Costumes and Weapon Skin are Permanent and Tradeable but do not give you any stats, they will only change the way you look.
Jack O' Lantern will also allow you to craft Halloween Boxes.
In addition, on the Item Mall, we will have available for you:
- New Hairstyles;
- New Pets;
- New Mount Skins;
- New Weapon Skins;
- New Costumes.
This Year there will be NO Halloween Metin Stones. The Wands and Pumpkins will both be dropped by Monsters, both inside and outside the Halloween Map, the Death Valley.
There will also be 2 Daily Mini-Events everyday, which will be announced in Game and in Discord, so pay attention to our announcements so you don't miss any!
- Screenshot Contest (Theme: Halloween)
During the whole event, every player can send me the best and most creative screenshots. The best 4 will be rewarded with Tec Points!
- Puzzle Contest
There will be a new puzzle to solve everyday and we will announce it in both Discord and In-Game so you can solve it! The first player to solve it everyday will get an Odin's Ring. The reward will be sent right after the winner is announced. In addition every participant will receive a Halloween Box. Remember that you have to send me your answer via private message here on Forum. I will not accept any answers given in this thread.
- Best moments in Halloween Event 2020 (Video Contest)
During the whole event every player can send me videos of their best moments during Halloween Event. The best 4 will be rewarded with Tec Points!
If you any questions or suggestions feel free to let us know!
Any flame or insultuous comments will be removed. Stay clean!
We hope you all enjoy this year's Halloween Event with us!
Kind Regards,
Metin2 SG Team

Note: All the scheduled Event during Halloween week are canceled!