The Power Mount System was implemented on 13/05/2014 and allows you to train your mount and replace your horse with it.
You can obtain your mount by dragging a certificate of the animal over the Stable Boy NPC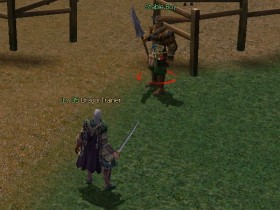 Most of the certificates are dropped from every metins in the game, while Dragor and Chocobo are Item Mall / Events only.
The Mounts will start at Young level, you can use them at any level but they can't attack and they do not provide any bonus.
You can upgrade them with a Scroll of Evolution to turn them into Wild Mount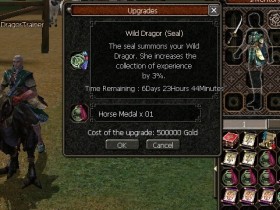 Wild Mount requires level 35 to be used and level 11 horse to attack with them, with the exception of Dragor and Chocobo.
Wild Mounts will also provide one bonus out of 5 possible bonus which will raise further if you turn it into their final form, the Valiant, by using a Scroll of Mutation.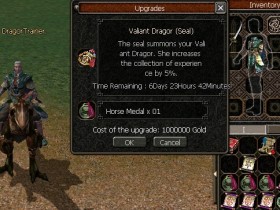 Please Note:
Valiant mounts requires level 50 to be used and level 21 horse to use the horse skills.
Both scrolls are dropped by Moonlights Box or events, and they have over 75% success.
If you drag an horse medal over the seal, the lifespan of the mount will be increased by 1 hour. You can do this process as much as you want without any limits of use or time.
If the times run out the mount will disappear forever.
Tips:
You can summon your mount with the hot key CTRL + G, the mount won't fill a space in your accessory slot and it will be as fast as the horse, with the exception that it won't be in your way if you dismount
Upgrade your mount only if your level allows you to use it. Remember the key levels are 35 for Wild and 50 for Valiant. Also your Horse Level is important, be sure to have it at least at 11 if your mount is not a Dragor or a Chocobo